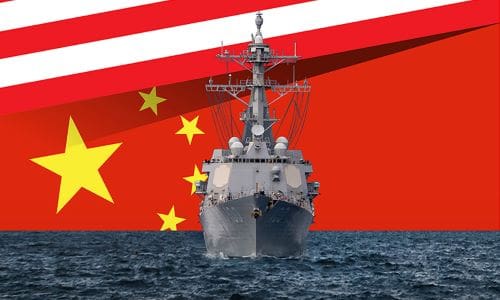 For Americans used to having the biggest and most modern military forces in the world, it is humbling to realize that China's Navy is now the world's largest. It has been for some time. The U.S. Navy may still rule the oceans, but China rules the vital trade routes in the South China Sea.
Pentagon planners know this and have called out China's work on building both capital ships and the swarms of smaller escort vessels that will project the dragon's breath across those critical trade routes for years to come. 
The People's Liberation Army Navy (PLAN) is building their capability to control and possibly interdict shipping from other Asian nations, mostly as an economic and political lever. 
China means to threaten the economic security of Japan, South Korea, Taiwan, Singapore, Thailand, Indonesia, and others. America must remain resolute in the face of this build-up in order to maintain freedom of commerce in the Asian seas.
https://www.prophecynewswatch.com/article.cfm?recent_news_id=4606